MSX party in Helsinki!





Back to mainpage




Here you can find answers to your questions:
Last updated: 02.08.2002 (network connection)

When?
02.-04. August 2002 (At a same time as Assembly'02 party)
Open from Friday 8:30PM till Sunday 2:00PM 24h / day

Where?
At Oulunkylä society house (Previously know as Oulunkylä Pop & Jazz conservatory) Address is:
Larin Kyöstin tie 7
00650 Helsinki

Pictures from the partyplace:
1 2 3 4 5 6 7 8 9 10 11 12 13 14 15 16 17 18 19 20 21 22

Should I come?
If you are interested in MSX system you are invited.

This party does not have any detailed schedule, what happens and when. If you know, that you are going to bring something with you, that you want to show, please contact us so, that we can inform other visitors reading this page. We are trying to get the schedule to interact with Assembly's schedule so, that people who have buyed a ticket to Assembly can get most out of both parties.

At least there will be 1 of 3 MSX Turbo R A1GT machines in Finland and most probably a working MSX LaserDisk system with few LD games. There will also some new software releases like:

- New demo from Bandwagon to MSX1
- Z80 emulator for MSX
- New version of Super-X debugger

It is up to you, what else there will be…

The aim of this party is to collect all people who are interested of MSX to same place talking and having fun.

Does entrance cost something?
Yes, it costs 6€ for whole weekend. We are not trying to get profit, but try to get some money back to pay the rent of the building. Grants are of course always welcome. :-)

What should I bring with me?
Take your MSX and monitor with you if that is possible. If you wish to bring some other computer with you, you can get a place for that as well. There is 220V(AC) and 380V(AC) available, but if you need 110V please bring your own transformer.

PC computers (especially with Windows) are not recommended to take along without a reason. If you can, bring your own extension cord as well.

If you are going to sleep here, you'll gonna need a sleeping bag. There will be a quiet room for sleeping purposes without furniture.

As in most these kind of parties, everyone is responsible of his / her own stuff. We also hope, that people will look after each other's stuff as well.

NOTE: If you have something special, that you want to bring with you, please contact us first. People, who are willing to show something special can get ticket at half a price. If you have something to show you may enter to building before official opening, if that is needed.

How about eating?
There is going to be some sort of "pizza & cola" buffet open 24h/day. If you like you can of course bring your own food as well. There is going to be a fridge for public use. If you like, you can buy MSX related operator logos / ringing tones for Nokia phones from buffet as well. :-)

How can I get there?
If you are coming from Assembly'02, easiest way is to walk to Pasila railway station and get a train.
Following trains from Helsinki / Pasila railway station will stop at Oulunkylä: I, P, N and T. Distance from Helsinki railway station is about 6Km and it will take 10 minutes by train. From Pasila the distace is about 4Km and it will take 5 minutes in train. You should be able to see the building from train window when you arrive. Trains will stop at Oulunkylä every half an hour at weekends. Train ticket will cost 1.40€ if it is bought before going into train or 2.00€ at the train.

Detailed information (in PDF format, sorry):
Trains from Helsinki: [0:00AM - 2:59PM] [3:00PM - 11:59PM]
From Pasila towards Oulunkylä: [0:00AM - 11:59PM]
From Oulunkylä towards Pasila and Helsinki: [0:00AM - 11:59PM]

If you come by train, follow the blue line. If you come to Oulunkylä by car, you have to make a little round. (Red line in the picture.)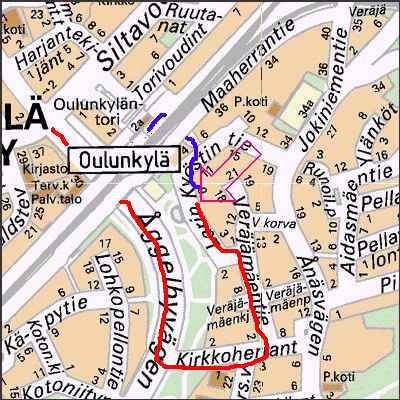 Good map pages: kartta.hel.fi and www.karttalinkki.fi



Is there network connection available?
There is 100Mb intranet and ADSL connection to internet. You need network card for your MSX (or other computer :-9) with RJ45 cable.

I need help with my stuff, can someone help?
Contact us we may be able to help.


If you didn't get needed info from here, please ask.



Optimized for

:-)