is over... Hope to see you next time!

Back to mainpage




As usual we took some pictures from the party place and you can find them here. This year we also had a feedback form and here are some results collected from them:

At the party we had 9 visitors.
77% of the visitors had fun.
55% of the visitors actually had MSX computer.
33% of the visitors were outside of Finland

Somehow I have a feeling, that these values do not give very realistic picture of the party. :-) After looking the party people I think, that at least the the fun % must include also neighbours, who voted afterwards. Unfortunately they used phone and not the form.

Ok, to the pictures... We started to build the party place on wednesday evening. On thursday most of the stuff was in place and it was time to check that everything works. Here you can see Stt checking out the monitors.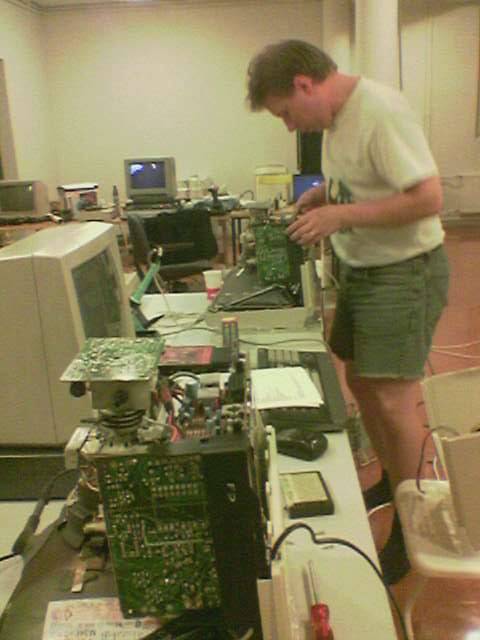 Somehow the LaserDisk system has always something against us. The story has been same every time it has been in the party place. The story goes pretty much like this every year:

Stt: "Ahti, do you have the LD communications cable?"
Ahti: "Yes, I should have one, but I don't have a glue where I have put it"
Stt: "I can't find my cable either... I think I might have sold it to someone, but I'm not sure. I think I have to make a new one, just wait a moment."

... and at this point we are always having a rush. This year Ahti's LaserDisk player also broke so we had to change player just before the visitors came. During the party the system was anyway up and running and there was no problems.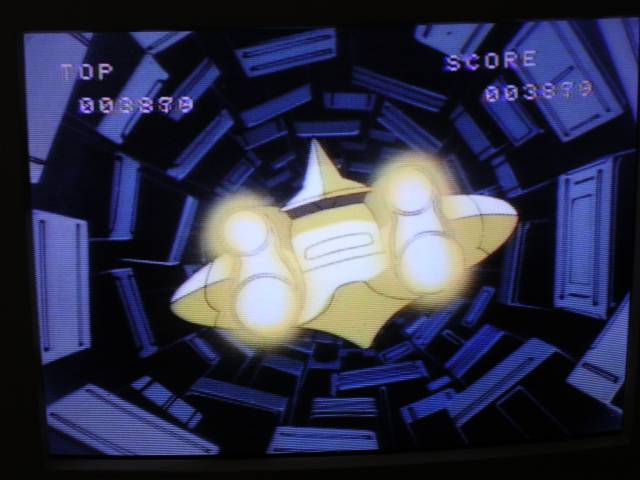 For the party we also made a MSX Info Update 2006 game disk, that contained nice game selector and over 30 games for MSX1 that had been released after last party. This disks party price was set to 1€ but still we managed to sell only 4 copys. This means that we still have quite a many of them in stock. If someone is interested about the original, please send us a mail. This disk is also available as downloadable disk image.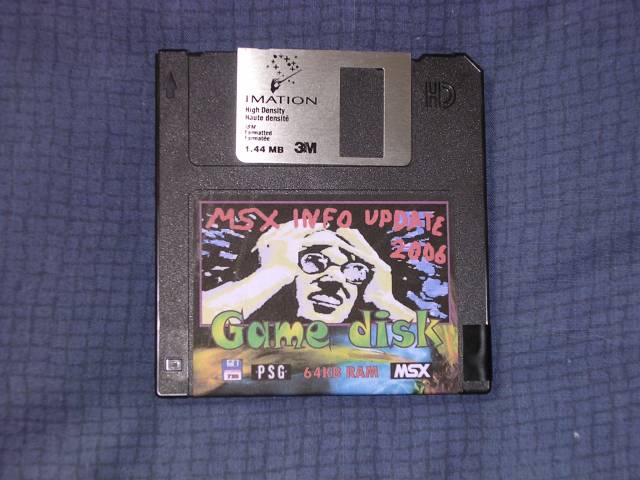 Besides the already mentioned problems there were only some minor things like Ahti's pizza, that tend not to fit trough the front door. :-)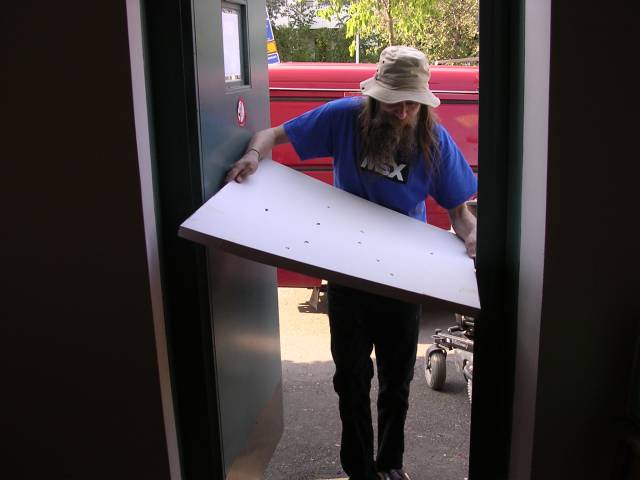 Ahti was kind enough to share his pizza also with other party visitors for free.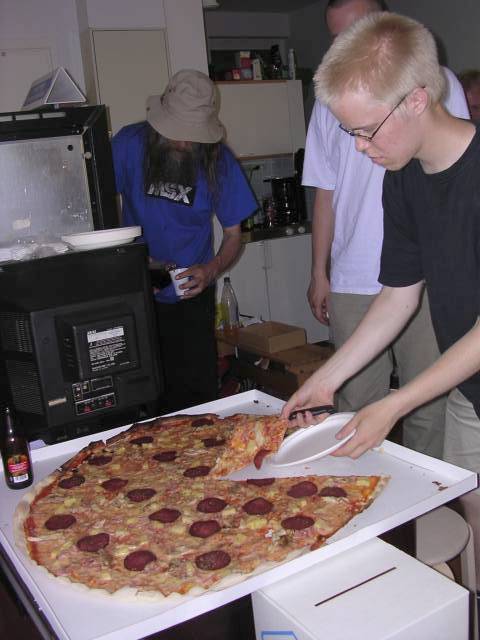 Here you can see a general overview of the party place...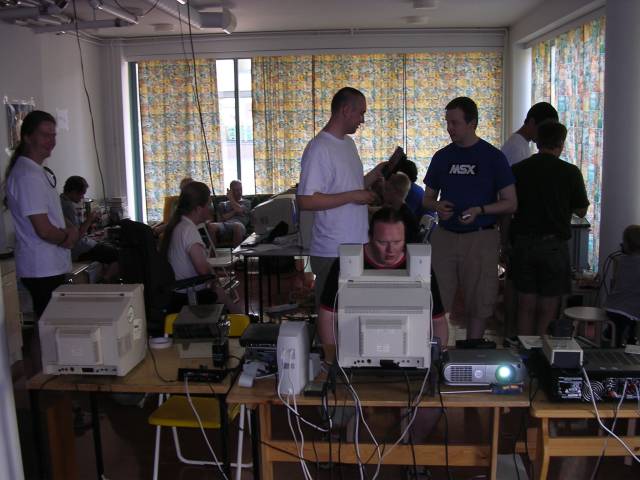 As you can see that there exists also young MSX users among us...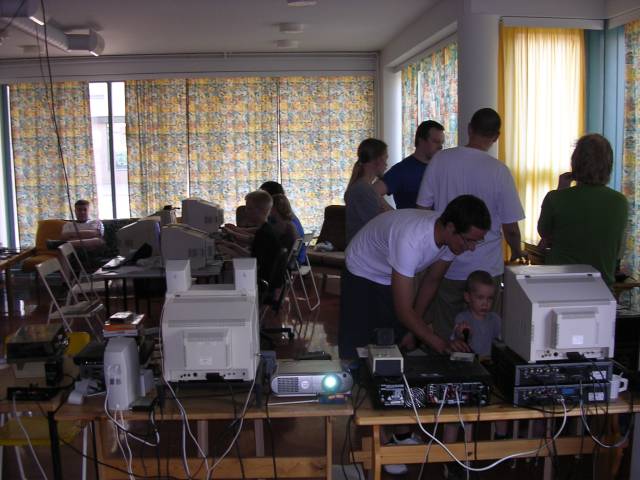 Weather was hot and temperature inside the party place raised quite a high. This had a side effect, that people really liked to hang outside of the party place.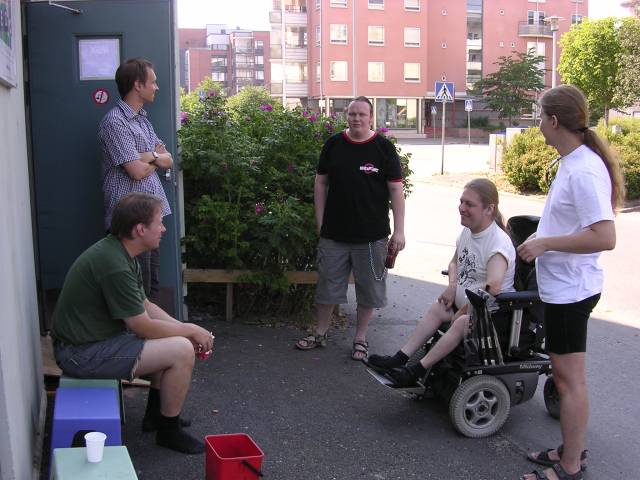 As usual we always tend to have something rare and unusual stuff to show. This year Ravel took a very interesting collectors item with him. A female, that plays MSX games! :-)




Ok, I think I should apologize already, but I think this year was really first time we actually had also females in our party. I hope this was not last time. :-)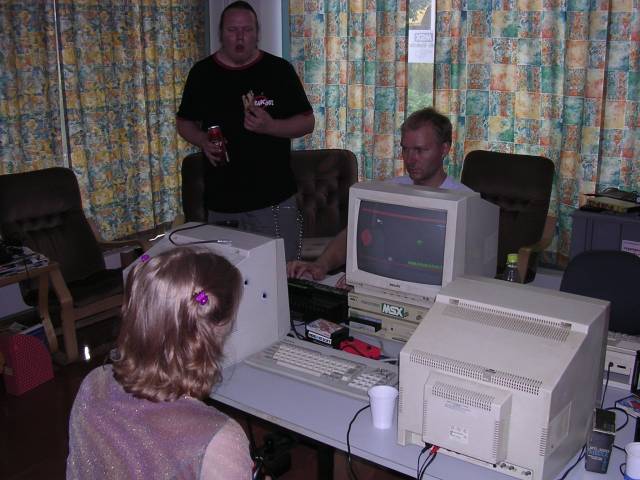 Here you can see Keltsu giving a good example of typical MSX user stereotype.




This picture was taken just minutes before global BlueMSX release event. We had a show where Daniel Vik presented new features of BlueMSX and later it was possible to test this emulator on laptop. Unfortunately the video was way too big to put on this site. You can view it here.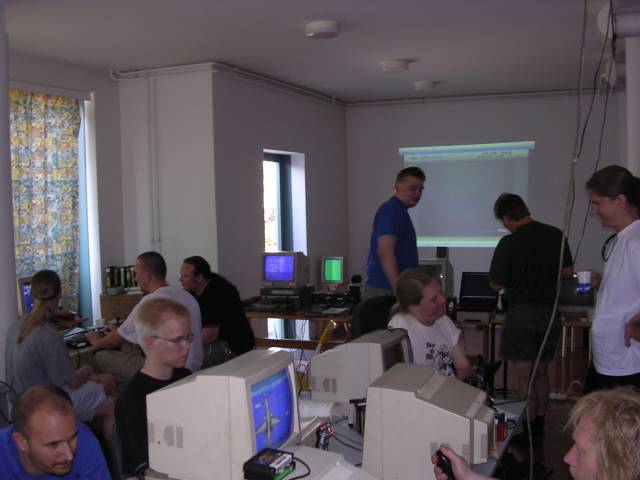 We also had a little show about SymbOS, that is extremely great multitasking OS for MSX2 and CPC. Although this OS in in alpha state even the file manager (SymCommander) alone is better than any of the other MSX file managers. Among other things this OS supports also FAT16 and FAT32.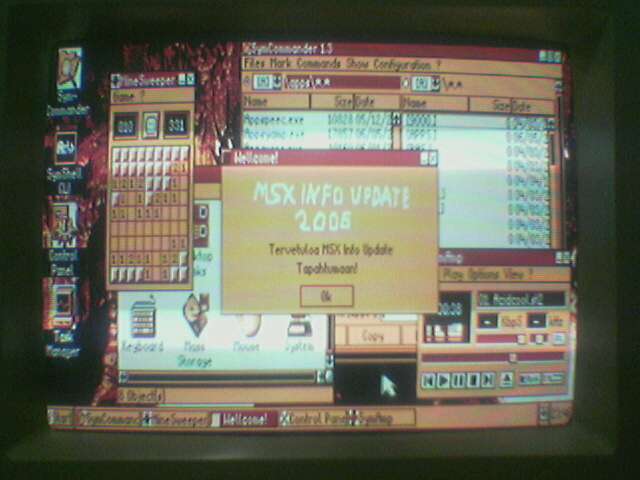 On the sofa you can spot Tokamoka together with MP83. We have been trying to get Tokamoka to visit us already 10 years, but finally we managed! Although the visit was quite a short we were happy to see at least one real oldskool MSX face in the party place.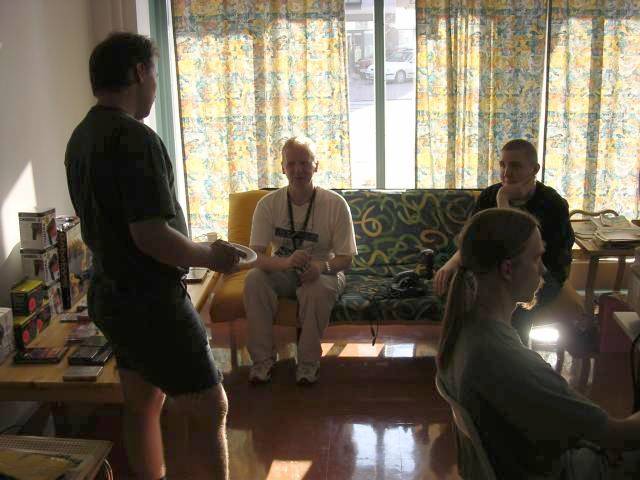 Below you can see the Doorguard 2.0 setup. From last year we learned few things:

1. Magnet switch attached to door with tape does not hold for the whole party.
2. Although the magnet switch doesn't hold the tape does. We used quite a many hours while trying to get tape glue out from the door.
3. The system does not work when door is kept open
4. People don't think it's fun anymore when system keeps saying "Wellcome to MSX Info Update" for 100th time.

Also this time we used speech synthesizer by Tokamoka but now the system was connected to ASCII Plus-X terminator laser as well. When we turned the monitor to it's side we were able to detect the direction of movement so that the system was able to react correctly for outgoing and incoming traffic. This time it had also quite a large greetings database. The fact that stuff tends to move in party environment was handled by automatic signal calibration. I think the system was working flawlessly all the time. Only surprice was, that it tended to count photo taken with flash as incoming object. :-)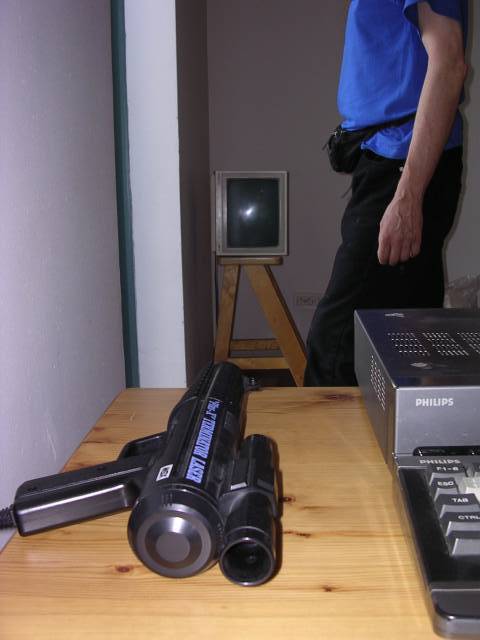 Playing games through was quite a common hobby. Here Lagers & Ville are playing Bubble Bobble trough. I know that at least Nemesis and Nemesis III was also played trough during the party.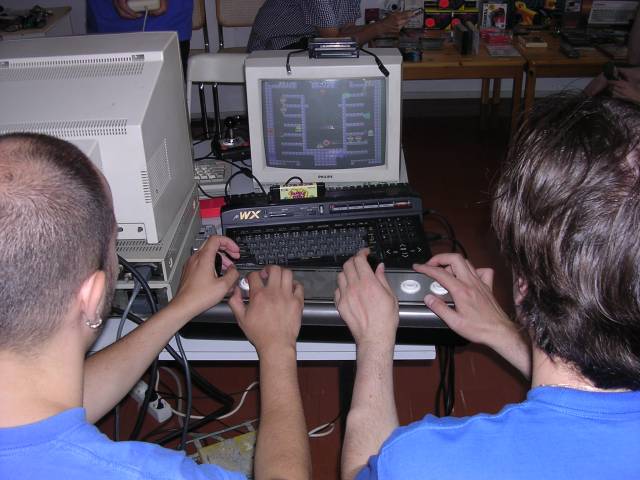 Here ccfg is making party demo for SVI-738.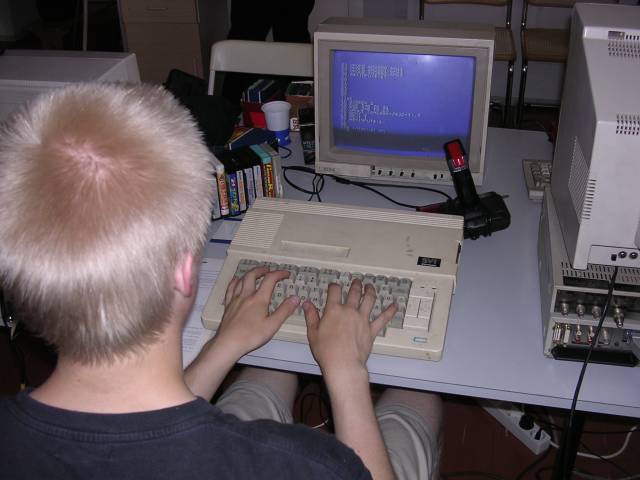 Here you can see the LaserDisk system and few Korean Zemmix consoles. This year we learned that Korean Salamander does not run in Phillips NMS8280. This was tested with two different 8280 machines. There is some hardware error that makes the ROM not visible in these machines.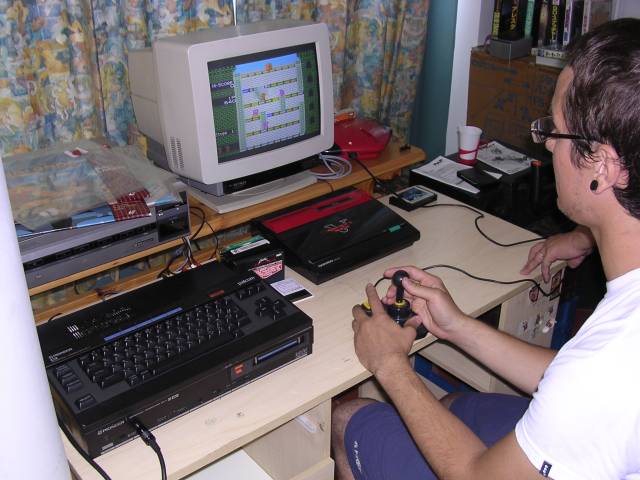 Here Knightmare gold was played from CD-ROM.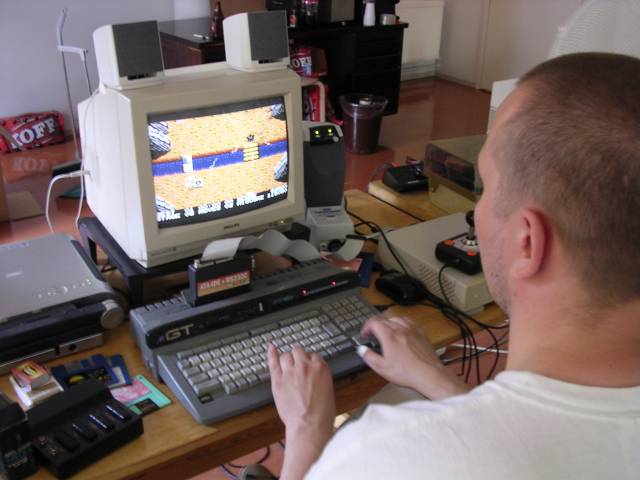 Although the day was very busy, only few people stayed over night. Next morning few quite a authentic zombies could be spotted in front of the party place.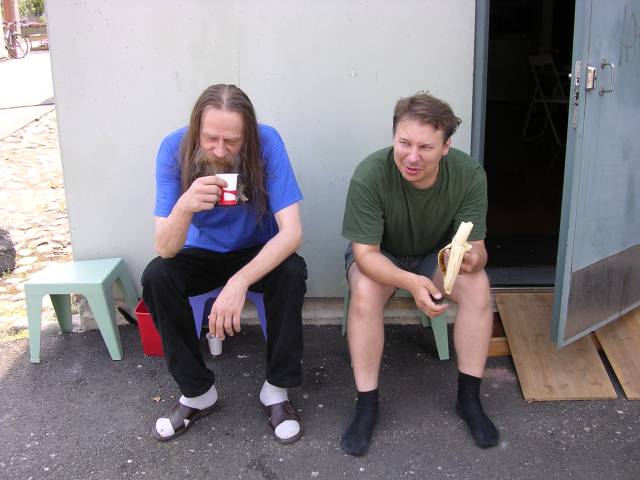 I think the party was a success and I hope to see you all next year again as well as new people and some special quests from other countrys. Thanx to all, who visited us!

Update 16.7.2006:
Alexey, who was representing his Caslink2 program also took very nice pictures of the party. These can be found here.

~NYYRIKKI