Afterwords
MSX Info Update is over from this year, hope to see you next year again! I really want to thank everybody, who helped us once again to make this party happen. Especially those people who helped us to build the party place and take it apart again.
You can download the compo entries and check out some pictures of the party by clicking links above.
General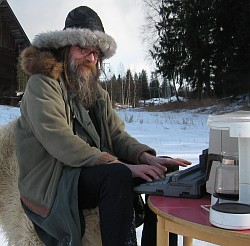 MSX Info Update 2008 - 9-10 August 2008 in Helsinki, Finland!
This is an event focusing in the MSX home computers and everything you can do with them... programming, gaming, demos, general hacking, collecting etc.
MSX standard was developed in 1983. In Finland it became quite a popular standard although it didn't manage in competition with earlyer published Commodore C64 computer. Here the most popular MSX models were Spectravideo SVI-728, SVI-738, Sony HitBit and Canon V20.
Later MSX standard was expanded with MSX2, MSX2+ and MSX tR definitions while still keeping downward compatibility. Ease of programming as well as great games from companys like Konami, Compile and Microcabin have made MSX well worth of remembering and this has been the reason for this party for many years now.
Feel free to join us. Live again the early time of homecomputers and see what has been happening during last few decades. If you think MSX is dead... you are wrong! We have plenty of hardware as well as software from 21th century that we want to show you, like One Chip MSX!
Features
MSX Info update 2008 will be held at Mannerheim-sali (same place as last year) on 9-10 August 2008. The complete address is Mannerheimintie 5 A (5th floor).
As usual, entry to party place is free, big thanks to YAMA and especially Kalle Karinen. If you are coming, we would really appreciate sending us a mail so we can have an estimate of the number of people appearing. Bring your MSX with you!
If you have missed our previous events, be sure to check out the picture and links page. Don't forget the invitation intro and video!
We have still some MSX t-shirts for sale as well as MSX Info Update calendars for year 2009, games, hardware and other MSX stuff. It's worth checking out our buy/sell table this year. You may find some surprises there as well..."
This year we are going to have a demo competition as well as a music competition. In both competitions you can enter with any MSX hardware except MP3 card which is prohibited in music compo. This year we are also going to have compo for gamers! The well-known demo/game group Dvik & Joyrex have confirmed their appearance at the event. They will introduce special version of their new racing game in which you can challenge other party visitors in dual play... More information
Wallpapers
Timetable
This is the preliminary timetable of the event.
12:00
Doors open, coffee maker is started
16:00
Latest MSX releases on the big screen
17:00
Demo/music competitions deadline
19:00
Music competition
20:00
Demo competition
20:45
Last moment to sign up for the racing competition
21:00
Racing competition
...
09:00
Doors close
Contact
The event is organized by NYYRIKKI, Ahti, Ravel and friends in co-operation with YAMA. Our contact address is: